WHY OUR ALUMNI LOVE US
Christ Centered
Our program is the only Christian based French Language School in North America! Not only do we teach French grammar and vocabulary, but also how to share Christ in French.
Community Atmosphere
Living together on campus, small class sizes, and caring professors create a community atmosphere that will support you and encourage you through your language learning journey.
North American based
Staying in North America is better on the budget and makes the transition easier, while still being able to immerse yourself in a French environment.
68
Years we've been in operation
1200
Graduates of our French programs
20
Countries our graduates have served in
15
Mission boards we have partnered with


Before coming, our family prayed carefully over where to attend language school. Staying in North America was the deciding factor for us, but looking back at our time here I can see so many reasons why God led us here. The small class sizes gave us the flexibility we needed and the freedom to ask questions as we learned the language. Our kids interacted with the French Bible School students on campus and were impacted by seeing them live their faith out. We are so thankful God led us here!


I always pictured us doing language school in France… Quebec just didn't sound nearly as exciting! But we ended up here at Parole de Vie, and I have never once wished that we had gone to France. The community has just been amazing for us as a family with young kids… it's been real special for us. The only downside is that it's too short!


This year has been quite the gift for us. For me, a chance to rest from 8 years of full time ministry, and for my husband David, a chance to learn French so that we can move to Montreal in a couple of months to fulfill the call of God on our lives.


One of my take-homes from my time at the Language school is to see all these new missionaries heading out to fields all around the world. It's such a great ministry here. Our teachers are tolerant and understanding and they model patience, humility, and perseverance.
Steven
Serving in West Africa


The Immersion Program has been amazing. I cannot think of a better fit for my Bible School experience; studying God's Word and learning another language at the same time. The language barrier has been a struggle, but God is reminding me that I have the same Holy Spirit living inside of me as in every other believer. I am so privileged to be studying here!


God was calling me into a French ministry, but as a 44 year old, I was not excited about the challenge of learning a new language and going to language school. I never imagined that I would enjoy learning French, but the professors patience, sense of humour, and heart for us as students made it an incredible experience.


What I appreciated most about Parole de Vie was the small class sizes, the friendly and godly instructors, and the wonderful interaction with fellow students in and outside of class. We were like one big family, with a common goal of learning French for ministry.


Learning language is never easy but the professors at Parole de Vie were consistently patient and encouraging. We shared laughs, tears and prayers. We will never forget out time at Parole de Vie.
Tim & Candi
Serving in Quebec
GERMAIN'S STORY
Students come from all over the world for different reasons to learn French! Germain, from Mexico, wanted to learn French for business purposes and wanted to study in a Christian environment. Here is what he had to say about his time at Parole de Vie:
"Learning French at Parole de Vie changed my life in different ways. I had tried studying the language at home for a few months but I was never able to talk and understand it.
After only 3 months in Quebec, I had a french conversation with a native speaker and he was surprised how capable I was to speak with him after only a few months of study. The program gives you the skills to speak, write and understand the language. Besides this, it also helps you to continue growing in your Christian life as you are able to understand and share the Gospel in French. At Parole de Vie, not only you come to learn French, you come to live and grow spiritually in French!"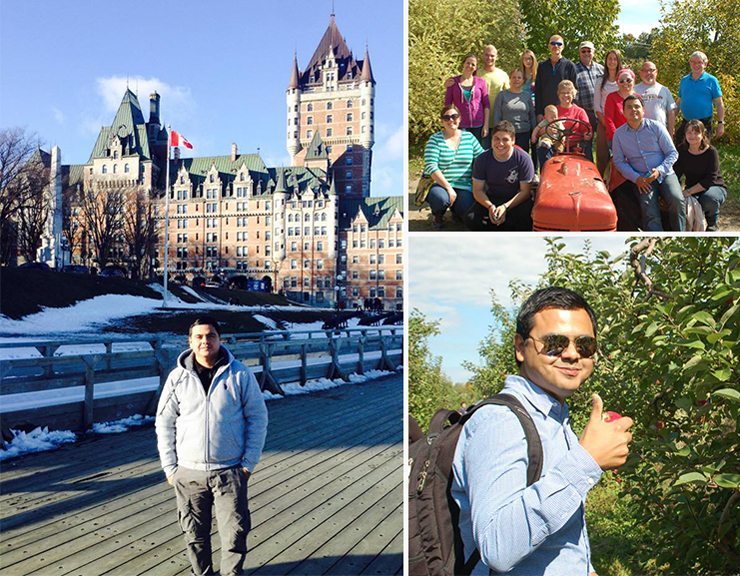 OUR WORLDWIDE IMPACT
Our graduates have gone on to serve God all over the world!
CONNECT WITH US
Are you an alumni of the French Language School? If you are, we would love to hear how you are doing and what you are up to now!
Send us a message to reconnect.
Contact Us