ABOUT THE LANGUAGE PROGRAM
Our Language School offers beginner, intermediate, advanced, and integration courses.  At all levels, our program is customized to your current understanding of the language.
Whether you are learning the basics or fine tuning your advanced french speaking skills, our classes are designed to push you beyond what is comfortable. Having taught french for more than 60 years, we know that immersion in a French speaking environment is the best way to learn quickly and effectively. Our teachers take the time to meet your individual needs in the classroom, while trying to make French fun and practical.
Classes are composed of three main elements: grammar, dialogue, and conversation. Grammar rules are applied in dialogue and conversation-in-context and reinforced by exercises, cultural field trips, and home lab work completed at your own pace. We also offer Bible vocabulary classes to equip students for life and ministry in a French evangelical context as most of our students will be going on to the mission field.
"Learning language is never easy but our professors were so patient and encouraging. We shared laughs, tears, and prayers. We will never forget our time at Parole de Vie." - Tim
Read more testimonies
Day in the life of a student
What does a day in the life of a language school student hold? While your exact schedule will depend on your level of French and individual needs, here is an example of what typical day would look like:  
Morning classes start at 8:45am and begin with a brief prayer and scripture memory time. Then the learning really begins with grammar, conversation and dialogue courses. A variety of activities, written work, and role play, as well as the building blocks of grammar rules and vocabulary will develop your understanding of the language and enable you to communicate in French in daily living experiences. A two week French phonetics class is also included for beginners to help with pronunciation.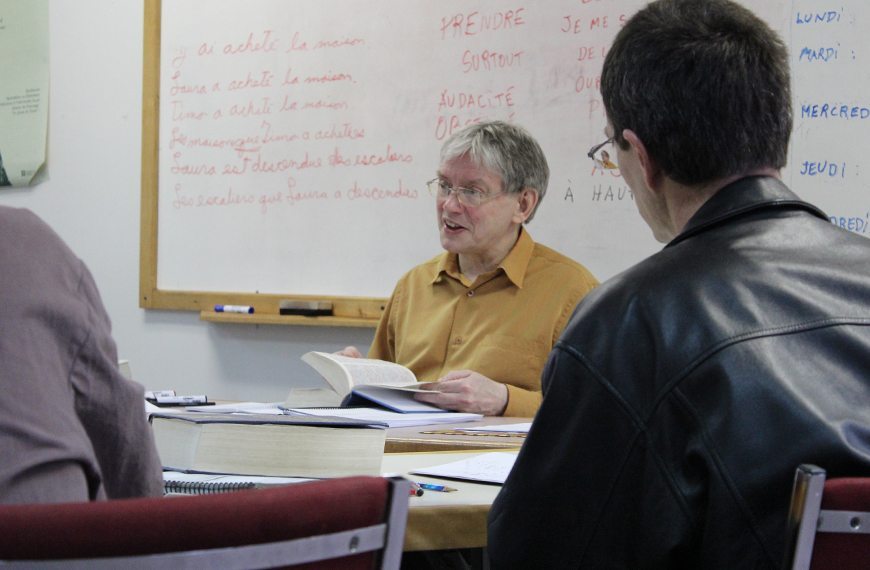 Wednesdays look a little different from the other days of the week and have a spiritual emphasis. Bible Vocabulary classes replace regular class time and at 9:30 staff and students from both schools gather together for a chapel service with French worship, testimonies, and a challenge from God's Word. Missionaries in the Language School will have an opportunity to put their French into practice and present their ministry in chapel during the year!
After chapel, there is a special time for Language students to split into small groups and have a time of prayer and encouragement to share the highs and lows of language learning together.
What I appreciated most about Parole de Vie was the community here. Having the men's and women's group times to pray together and encourage each other was a blessing. We were like one big family, with a common goal of learning French for ministry.

-Heidi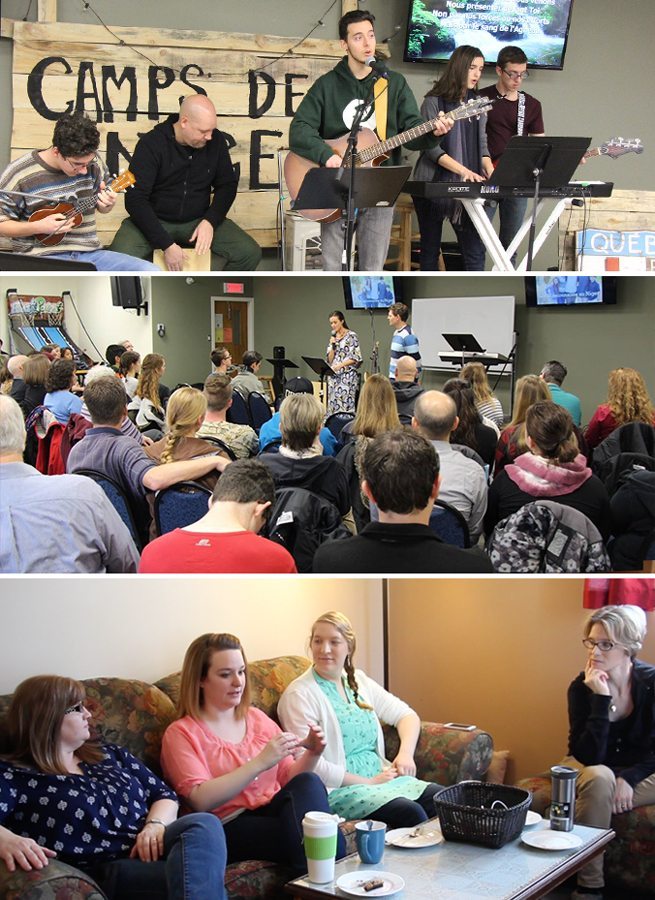 Grab a coffee or tea in the cafeteria with the Bible school students and try out the new words and phrases you just learned! Or give your brain a break and take a stroll around the beautiful campus. (Although you might want to stay indoors in the winter months, when temperatures dip down to -20 degrees celsius!)
The morning classes are divided into two 1.5 hour blocks with one 30 minute break in the middle of class to break it up, while the afternoon classes are comprised of three 50 minute classes with 10 minute breaks in between.    
All our Language students are paired up with a Bible School student to meet once or twice a week to read together. The student will aide with pronunciation and language rules. This is also a great time to pour into their life and encourage them in their walk with God.
The time with your reading partner is flexible and can look different for each student. Pick a time and place that work for you and make it a fun and impactful time for both of you!
One of the things I appreciate the most about working with one of these students from the Bible School, is just seeing their passion for learning Gods word… They could do so many other things with their lives but they choose to come here for a year to study nothing but scripture… that motivates me!

-Rory (Language School Student)
Seeing Christians, missionaries that live out their lives purely dependent on the Lord, purely on faith… To me, thats how I want to live my life. I don't know exactly what that will look like, but I know God will provide for me. Their example has had a huge impact on my life.

-Fred (Bible Institute Student)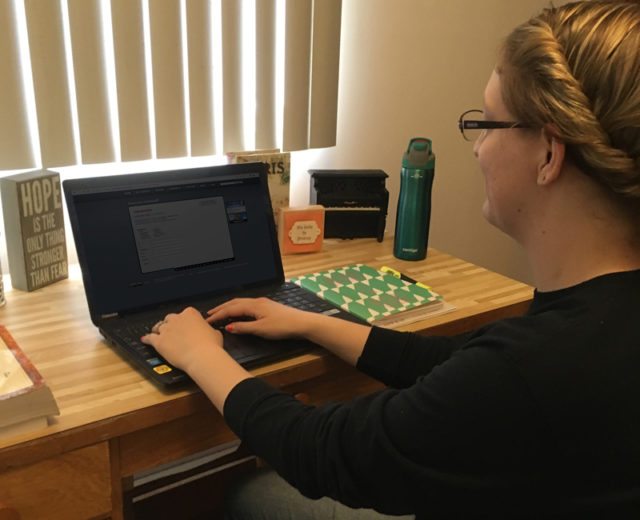 A key part of the program is the home laboratory work that is assigned each week. As you'll only be in the classroom for half the day, take time at home to reinforce the concepts taught in class through interactive websites, exposure to French media, and required conversation time and social outings to immerse yourself in the language. Don't forget to study for your tests and prepare your presentations for class!
Evenings are free to explore the city, join a small group or ministry at a local church, or meet up with fellow students over coffee at a local café. You can be as immersed as you choose to be: and in our experience, the more you push yourself, the sooner you will see results.
The beautiful city of Sherbrooke has a population of over 160,000 and is located less than an hour from the Vermont border and is halfway between Montreal and Quebec City. The city itself has a lot to offer! Take time to explore the many walking and biking trails, restaurants and cafés, shopping centres, and historic downtown centre, all just a short drive from the campus.

"I always pictured us doing language school in France but we ended up at Parole de Vie, and I have never once wished that we had gone to France. The community has just been amazing for us as a family with young kids!" -Jessica
Read more testimonies
STUDENT LIFE
We have a unique experience here at our Language school in that we share our campus with Word of Life Bible Institute students. Each week our language school students meet with people attending the Bible Institute to practice their French. We also take our language school students out to places like a Maple Syrup sugar shack, an apple orchard, and more so that they can not only experience the riches of the Quebec culture, but also so that they can use and practice their language training in real world scenarios.
HOUSING
We offer affordable furnished apartments on our Campus, and help students find housing off our property. These apartments can house both individuals and families. We can accommodate single young adults in our dormitories for a more immersive experience, although extra charges do apply for things like eating in the dining room, and living in the dorm.
DAYCARE
Yes! We offer daycare on campus for our language school student's little ones! Our daycare personnel are interns and students at the Bible Institute, so they will be loved and cared for while you are in class. The daycare is set up with age appropriate toys, games, and books. We have found that not only do the kids love spending time with their babysitters, but our Bible Institute students grow attached to the kids!
WHO OUR ALUMNI ARE
A few of the mission agencies that our graduates serve with.